600+ Reviews from Real Women
Some women ask "does Macafem work?" What better way to answer than with these sincere testimonials describing how Macafem has helped many. Macafem supplements have already aided women all around the world in overcoming menopause symptoms and other hormonal disorders. Read their experiences of how Macafem worked for them.
How Macafem Changes Lives - Video Reviews
Macafem Is the Best Choice for You!
Over 15 years in the market
100% Money Back Guarantee
300+ reviews speak to its effectiveness
Full pre- and post-sale customer support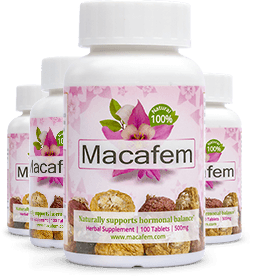 Thousands of women have gotten relief from their symptoms.

Get to know some of them!
*
I had really intense hot flashes that left me feeling completely depleted and out of control of my own self. After just a few weeks of taking macafem 3 times daily, my hot flashes have gone away. I still have quick changes in temp (like getting hot after drinking my morning coffee) but it is nothing like it was before macafem. I also find I am not as irritable. I highly recommend it!
*
Tried Macafem about 10 years ago, took it on and off, more as my perimenopause symptoms got worse, I wasn't truly convinced Macafem made a difference until I stopped taking it for a few months then returned, symptoms pretty much went away especially during the week before and during my regular period when I had it. I tested it once again and stopped taking it for a couple weeks and symptoms returned, so I am once again taking it first thing in the morning and now know it makes a huge difference, I'm going to be 54 in November and close to reaching menopause. If you have symptoms and thinking about trying Macafem give it a try you will be surprised how it makes you feel so much better!
*
Ever since I started my 'Change-of-Life' I wanted a Natural Remedy that solves my Hot Flashes and Mood Swings.
Macafem has solved my issues and does wonderful things for my condition!
*
I have used Macafem for MANY Years it has helped tremendously at this time I am using to help prevent osteoporosis
*
It has helped a lot with my mood swings and energy levels. My hot flashes have all but disappeared! I highly recommend this product for anyone going through menopause!
*
56 yr old , taking for almost 1 1/2 years now and this helped relieve mood swings, night sweats and hot flashes.
*
It is terrific in reducing the effects of a lot of menopause symptoms.
*
Its really helped with my depression and mood swings i have been able to go longer without it but i think i need to keep a bottle or two on hand. With so much going on today i can feel that dark depressing feeling starting to creep up on me again..i just ordered a bottle! thank you so much for this product.
*
Macafem helps to balance one's mood, I feel content and have a positive outlook, thanks to Macafem
*
After having a bad reaction to products containing black cohosh, I researched to see if I could find another product to help with severe menopause symptoms. I found that black cohosh is not recommended for use more than about 6 months, which was useless when having several years of symptoms. I found some reviews for Macafem and decided to give it a try. While nothing alleviated all symptoms, Macafem has made them much more manageable over the years. I have taken it for nearly 8 years now.