600+ Reviews from Real Women
Some women ask "does Macafem work?" What better way to answer than with these sincere testimonials describing how Macafem has helped many. Macafem supplements have already aided women all around the world in overcoming menopause symptoms and other hormonal disorders. Read their experiences of how Macafem worked for them.
How Macafem Changes Lives - Video Reviews
Macafem Is the Best Choice for You!
Over 15 years in the market
100% Money Back Guarantee
300+ reviews speak to its effectiveness
Full pre- and post-sale customer support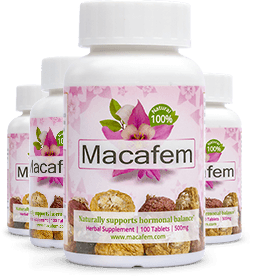 Thousands of women have gotten relief from their symptoms.

Get to know some of them!
*
I am a very emotional person and have been on an antidepressant for years which has made me pretty stable. I just turned 54 and I am still having periods most months. I have been taking Macafem consistently for about a year. I feel it has really made me more stable emotionally. I still cry and have emotions of course, but I don't feel so fragile. The few times I have run out of vitamins, I could tell the difference (and so could my husband!). I am thankful for the benefit I receive from Macafem. I don't have any hot flashes or other symptoms- maybe those are yet to come, but I haven't experienced any so far.
*
This product really helped me! I was kinda skeptical but I figured I'd give it a shot after reading the reviews. I was having cycles every two weeks :) but when I started this product they stopped!!! I've been in perimenopause for quite some time now so I'm hoping this will continue to help me until I'm finished with menopause completely.
*
Hi! I am a 59 years woman and I have been taking this product for almost 4 years. It helps me a lot to control my hormones. I suffer from migraines and this product has helped me with that too. It gives me energy and I feel pretty good when I take it.
*
I am Perimenopausal and I experience hot flashes, headaches, joint pain and so on. I have taken Macafem for about a year and a half. I ran out about 2 weeks ago and just didn't reorder. Well the headaches, joint pain, hot flashes have returned that is when it hit me this stuff really works
*
I have been using it since sept is last year. I was having hot flashes, anxiety, V dryness , sleeping problem and this has help a lot !
*
I had been struggling with menopause symptoms for about a year. My friend recommended that I give Macafem a try to alleviate the hot flashes, night sweats, etc. Within the first week on this magic supplement, my menopause symptoms dwindled down to nothing. I haven't had a hot flash or sweaty night since! I highly recommend you give Macafem a try!
*
Macafem is a safe and reliable product. i have been using this product for years and I love it. This natural product has addressed my hormonal imbalance of hot flashes. I do not have hot flashes any more.
My husband speaks often of my body during Love-Making. He knows the difference and it works wonders.
Ladies, if you have had a hysterectomy or have intimate issues, this is the key. Macafem will rev up your sex drive and spontaneity . I will continue to use this product until the Lord calls me to my heavenly home on a cloud.
Straight from my heart,
Chris of Central Texas:)
*
Pleasantly and happily surprised with Macafem. I've bought every supplement available out there with little to no change in my symptoms. I originally opted for one month of Macafem expecting the same non results but Macafem is definitely different and it is providing me actual relief. I take two pills daily, 1 in the morning and 1 in the evening and although I still have irritating menopause symptoms, the Macafem has helped to decrease the hot flashes, foggy light headed feelings and the heart palpitations that I have been experiencing pretty much non stop for the last 2 1/2 years. It was obvious to me after a couple of days of taking Macafem that I have finally found something that will actually work for me this time.
*
I love it 😀 I am taking Macafem for many years. It work for me. I am 61 years old. My symptoms of menopause they are not crazy. I stop for 1 years and 5 months. Now I go back again because .I am feeling hot and cold. Crazy 😱 good luck 👍 😉 remember everybody is different. To me work great 👍
*
I am someone that prefers to try more natural supplements and exercise before seeking medical support. This supplement helps balance me. I rarely have hot flashes or other side effects. My menstrual cycle is more regular.